It's not about who won. It's why they won.
Do you know who was behind Novak Djokovic's recent success?
AJ has highlighted two relevant courses from Novak's Strategist – Craig OShannessy – see bio below.
These are on offer to you an additional discount through June 15th 2020.
You can personally tap into these secrets of success by studying Brain Game Tennis. Strategies that work. Strategies that have been tried and tested. Strategies that have won Grand Slams.
Click the links below to go to the site. Locate these two courses and purchase your new strategies today
25 RULES OF DOUBLES – click here
Doubles is a lot more about situations, and figuring the right way to take advantage of the net. Learn about the most important element of doubles, the Center Window, and how the doubles court is really shaped like an hourglass. Serving patterns, return targets, and how to dominate at the net by reading your opponent much more than the ball are all covered in this new strategy product.
25 GOLDEN RULES OF SINGLES STRATEGY – click here
Tennis may look like a game of random pinball, but it is actually a game of repeatable patterns that you can copy from the world's best players. There are four elements to tennis – serving, returning, rallying, and approaching, and each one has higher percentage patterns that you can continually run. Learn which serve spots are better than others, the best place to return, how to construct a patterns of play, and the best place to approach to. Play smarter = win a lot more matches.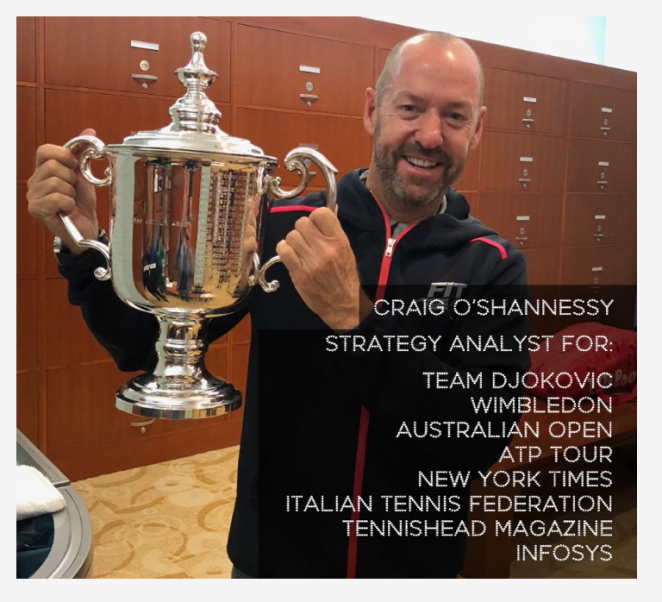 ---
Craig O'Shannessy is leading tennis into a new era of coaching using data & analytics.
Now, you get to learn from the best in the world. Craig has:
Coached the #1 Player in the World
Worked with singles & doubles players on the ATP Tour
Been a lead strategy analyst for the Australian Open, Wimbledon, and other top tournaments
Coached top junior players in the US
Been featured on Tennis Channel, ESPN, and other top sports networks
Before releasing these tennis strategy courses, this kind of knowledge and coaching was only available to top pros. But now, you can learn the same strategies for a fraction of the cost.
If you're ready to develop a clear plan to improve as a tennis player or coach, these courses are for you!