BTUK hosted an ITF Grade 4 Event in Margate
This all happened last weekend, 8th and 9th August on a packed out busy sun drenched beach in Margate, Kent.
Sheena and Claire's Team, from Motiv8 sports, were kind enough to allow BTUK exclusive access to and use of their facilities for the weekend to run this G4 ITF Beach Tennis Tournament.
What a weekend! Some excellent play from both beginners to the game and the more seasoned players.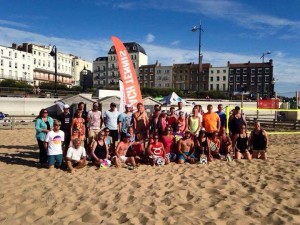 (left) The whole Team and the Players pictured here on the Sunday after all of the matches had been played and the winners triumphed.
A huge thank you to all who made this event possible and who made the effort to represent their country in this tournament. We had representatives from Italy, Cyprus, Moldova, France, Poland, Sussex, London, Kent to name but a few.
It was France that came out on top with Kevin Deconinck and Guillaume Grimbert winning the the Men's Final, 6-1, 7-5.
Alizee Hornoy and Marie Pottier, also from France, won Ladies Finals in a closer 6-3, 1-6, 6-3 battle.
The Mixed title went to a British/Cyprus pair Chris Maguire and Antonia Charalambous, 4-1, 4-2. (Short Sets)
curious?
check out a video made from the weekend. CLICK HERE
music
Beach Tennis is not complete without the summer tunes pumping in the background!! Exclusively from "DJ AJ" here is the link to the playlist that you all loved and nodded your head to. . .
We look forward to the next ITF event. Watch closely for more details.