Redwing Rackets
CTA are happy to be involved with a brand new venture at the Club. Young squash player, Luke Credland is starting his own small racket restringing/selling business.
He has been provided with some very cool customised Harrow squash rackets. There are only 30 in the UK. Grab one as soon as you can.
These can be purchased at a competitive price of £95.
Redwing Racket £95.00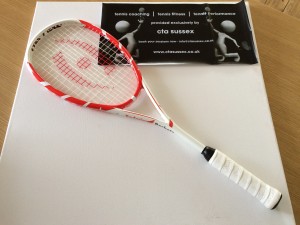 The Limited Edition Redwing Racket
Harrow have customised these exclusively for Luke Credland and Redwing Rackets.

Get yours via Luke. Also have your squash or racquetball racquet restrung £20
The "Redwing", comes from the local company that sponsor Luke as he embarks on his squash tour venture across the counties. His latest victory came in July 2015 at the Bexley British Junior Open, where he came first. He is destined for great things I am sure.
If you would like one of these limited edition rackets, please contact us via info@ctasussex.co.uk
AJ and Luke