RS Tennis Coaching Kit
Fed up with basket feeding? Say goodbye to standing by your metal ball hopper.
Introducing the RS Tennis Coaching Ball 'Belt" Bag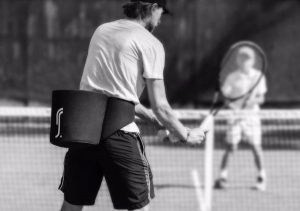 ---
Not only is this a safer option, but this bag holds enough balls for a coaching session where you have to be mobile and hit with your client. When the ball goes dead, just reach into the pouch and pull out another one. Continuous hitting from anywhere in the court – no reason to keep returning to your hopper for more "ammo".
They are very comfortable to wear due to the wide waist band. Secure. Sits perfectly in the small of your back. Drawstring enclosure so that the balls do not jump out whilst you move, but leaves enough space to reach in and pull out another ball. Why were these not invented before?
Easy to keep clean
Easy and smooth to carry
Perfect also for parents playing with their kids – carrying balls in the car etc.
---
Come along to our Club and try one out for yourself, before you buy. 
Contact aj via retail@ctasussex.co.uk and ask for the best price. 
---