Tennis Coordinator / Club Strength and Conditioning Coach AJ Cotter PTR / LTA Qualified and Licensed Official
AJ, has been involved in Tennis practically his whole life, either playing, Coaching, watching, learning… He came to Crowborough Tennis Club approx. 12 years ago and has represented the Club on numerous occasions either on Court or at various events. He took on the role of Tennis Coordinator in 2012 – Managing the tennis side of operations. His enthusiasm and drive has injected the much needed "buzz" back into the Club. The Adult Coaching has been revived and the Mini Tennis is already showing signs of expansion with a revived program for 2014 planned. His vision for the future of the Club is very positive. He loves all forms of tennis, from short tennis through to beach tennis, which he also Coaches on a regular basis during the summer months.
All the Clubs Coaching requirements filter through AJ and CTA Sussex. He organizes appropriate sessions; events; tournaments; book courts and everything else Tennis Coaching related. All abilities are catered for. AJ will source a relevant session for you or even create one! Contact AJ by e-mail info@ctasussex.co.uk
Head Coach – David Beardsworth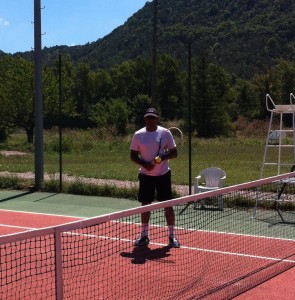 USPTR (United States Professional Tennis Registry)
Certified Pro RPT (Registro Professional De Tenis)
National Professional  USPTA (United States Professional Tennis Association)
Professional Coach MTCA (Modern Tennis Coaching Academy)
Instructor FFT (Federation Francaise de Tennis) Accredited
David is the Club's Senior Coach. He has a great love and passion for the game and brings a wealth of experience and knowledge with him. 
Assistant Coach – Andy Ducker
LTA Level 2 Coach
Andy has been coaching for a couple of years now, working mainly with the mini tennis groups, but also coaches small adult squads. He has played in the AEGON U18 squad around the County and has also represents the Men's Teams regularly.
Andy is away at University at the moment. Currently studying Sports Science.
Assistant Coaches
We also have assistant Coaches who help out with the mini tennis program:
Lara Wood
Mike Ducker
Tom Levy
Claire Pardo  
For more information and to book any tennis coaching sessions contact: AJ on – 07807 133 384 or email info@ctasussex.co.uk